Services
Scheduled services vary from vehicle to vehicle, but most manufacturers recommend oil changes every 10,000 – 15,000kms, regardless of whether it has new car warranty. Due to our harsher climate conditions, engine oil can lose its viscosity which can cause long-term, costly damage to the engine.
We recommend servicing your car at least every 6 months or 5,000kms.
Benefits of regular servicing of your vehicle include:
Extends the performance and life of the engine, 
Ensures your car runs economically
Avoid costly repairs
Maintains its roadworthiness
Retains the value of your car
We offer a range of services to suit your car's needs and your budget.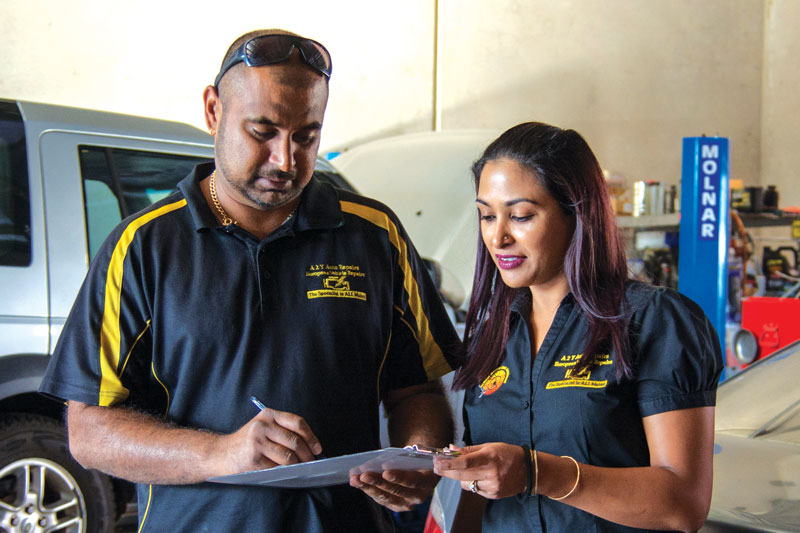 A2Y Auto Repairs is a family owned business with over 35 years in the automotive industry.
We pride ourselves on being Darwin's leading European vehicle specialist and are the recommended sublet repairer for Alfa Romeo, Volvo and Peugeot. We are also closely amalgamated with Fiat Chrysler Australia (FCA) as the only Fiat Professional Dealership in Darwin.
We strive to provide the best experience for our customers. Our team of technicians are backed with years of specialised European Vehicle training and experience and are continuously updated with the latest diagnostics and procedures allowing us to provide our customers with reliable, quality workmanship at affordable prices.
We offer a range of services including:
Pre-purchase inspections, Safety inspections, Rego inspections
Minor services, Major Services, Logbook Services
Air conditioning services and repairs
Brake service and repairs
Clutch services
Cooling system
Engine diagnostics
Transmission service and repairs
Tyres
Steering and Suspension repairs
Experienced
We have a wealth of knowledge and experience using only the latest information sources and diagnostics equipment.
Professional
A 2 Y Auto Repairs is recommended by dealerships Australia wide because of our professionalism and attention to detail.
Affordable
We pride ourselves on providing customers with affordable, professional services and repairs on any make or model.
Logbook Services
When you buy a vehicle under warranty you are required to carry out scheduled (logbook) services recommended by the car's manufacturer, which is usually every 6 months or 10,000kms so that you do not void the vehicle's warranty.
Scheduled services vary depending on the make and model of the vehicle and a series of components and checks are recommended at each scheduled service.
The manufacturer also recommends taking the vehicle back to the dealership to ensure the service is performed appropriately.
We are authorised to perform logbook servicing as the manufacturer intended and use only warranty approved parts and oils to ensure you do not void your warranty, so you can have peace of mind that your vehicle's warranty remains intact and you'll have more money left in your pocket.
Air Conditioning
Is your car's aircon not cooling the way it used to? One of the most common causes could be a leak in the a/c system. We offer a range of a/c services including leak detection, repairs and re-gas at competitive prices.
Brakes
Your brakes are your vehicle's most important safety feature, with the potential to make the difference between an emergency stop and an expensive trip to a panel beater. It's also one of the areas of your vehicle most susceptible to wear and tear, particularly with the stop-start nature of urban driving.
We can conduct a host of brake repairs for all makes and models of vehicles. We can replace worn brake pads, discs and drums, or machine the surface of your existing brake parts for longer life. We can also check your brake hydraulics for leaks and make repairs to cables and pedals to ensure your vehicle has all the stopping power it needs.
Some of the signs that your brake system needs a check-up include:
The brake light flashes on the dashboard
Loss of brake pedal pressure
A grinding or squealing sound when you press the brake pedal
The car pulls to one side when you brake
The brake pedal is hard to press
Clutch
The clutch allows us to smoothly engage a spinning engine to a non-spinning transmission by controlling the slippage between them. A clutch works because of friction between a clutch plate and a flywheel. We offer a range of hydraulic and mechanical clutch repairs.
Some of the signs that there is a problem with the clutch include:
Clutch slips, which causes lack of power to the wheels
Loss of hydraulic pressure of the clutch pedal
Clutch bearing becomes noisy when engaging clutch pedal
Cooling System
An overheating engine can very quickly become a serious problem for your vehicle, leading to a breakdown that could leave your vehicle stranded. If you think your vehicle's overheating, arrange for one of our team to check your vehicle's cooling system as soon as possible.
We can provide repairs and replacement of faulty radiator units, heater units, thermostats and head gaskets. We can also conduct coolant flushes to dislodge any internal blockages interfering with your cooling.
Engine Diagnostics
Late model vehicles come equipped with numerous sophisticated control modules, which monitor various systems within the vehicle. If there is a fault within the vehicle, it is stored in the control module and usually a light appears on the dashboard.
We have the latest, updated equipment and resources to read the fault code, and diagnose the problem in a timely manner.
Tyres
We can provide a range of tyres for all makes and models of passenger car, 4×4 and light truck to best suit your needs. We can also fit and balance them to your vehicle, as well as conduct wheel alignments to ensure you get the absolute most out of your new tyres.
Rego Inspections
We are authorised to perform inspections as required to register your car. We can also submit your green slip to MVR to save you going into a MVR Office, just pay online or over the phone.
We also perform:
Safety Inspections
Pre-purchase Inspections
Automatic Transmission
Regular servicing of transmission system maximises the performance of the vehicle. We offer a range of services and repairs for both automatic and manual vehicles.
Some of the signs that there is a problem with the automatic transmission:
Leaking fluid
'Check Engine' light comes on
Jarring transition into next gear
Car 'hesitates' or 'refuses' to go into gear
A whining, humming or even a slight buzzing sound
Steering & Suspension
The suspension system provides steering stability and driving control. We perform the necessary inspections to diagnose any issues and repair them at competitive prices.
Some of the signs that there is a problem with the steering/suspension system:
Vibration felt from steering or suspension
Bouncing felt whilst driving
Knocking noise from steering or suspension while driving
Grinding noises heard on turns